ENGRAVING GUIDELINES
Please enter all engraving instructions in the Pay Pay Billing Information Page, "Message to Seller" section or e-mail to info@naplenco.com
* FREE engraving up to 100 letters on all acrylic pieces. (Does Not include logos)
* Engraving does not include company logos. (National Plastic Engraving Co. assumes that by you sending us your logo, via e-mail or otherwise, you are hereby authorizing us to reproduce it as requested and you further agree that you have the authority to authorize such.)
* A one-time $35 set up charge is required for all logos or artwork. Once used, your artwork or logo will be stored in our job vault for future use and no future set up charges are required in the future for that particular artwork or logo. If logo or artwork is used on Acrylic awards, there is no additional cost other than the one-time set up fee above-mentioned. If logo or artwork is used on any metal plate or on Acrylic Giftware, there is a $7.50 charge for each time used.
All artwork should be furnished in Correll Draw or equal program and can be e-mailed to: info@naplenco.com.
* Engraving charges on any metal plate for plaques or badges begins at the rate of .28 per letter (or a $7.00 minimum, whichever is greater) and the same logo/artwork charges apply to metal plate as it does with acrylic. (All engraving charges can be found in our Custom Signs section (http://www.nationalplasticengraving.com/customsigns.html ). In the event that (combined) the engraving charges and material charges amount to less than $10, there will be a minimum charge of $10 required.
* Extra charges will apply for touching-up customer's artwork if necessary and there will be absolutely no refunds on engraved items. There is a 20% (of the purchase price) re-stocking fee on any (non-engraved) returned item. Any return items must have National's pre-approval and that notification must come no more than 5 days (in writing) after constructive receipt of the product by the purchaser regardless of whomever signs for receipt. Pre-approval for returns must be received in writing by our home office (see Contact Us above) or, you may call us directly @ (972) 345-0472.
** Engraving format and verbiage can be placed at the end of the Pay Pal shopping cart. You may request a proof of the style and format, otherwise, style and format are left to National's judgment & discretion. Requests for proofs will delay shipping slightly.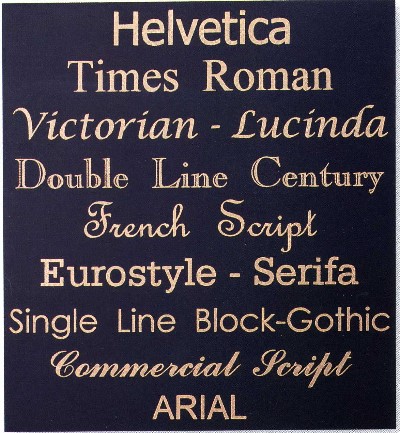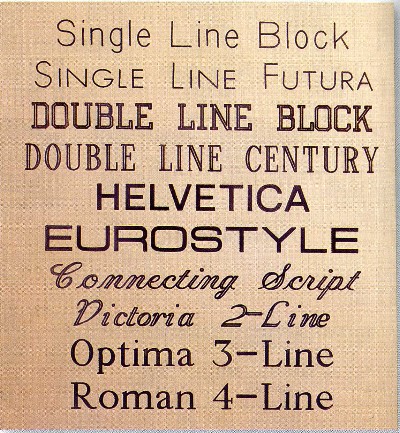 Engraving Charges (if required) are listed below as additional characters on Acrylic over the initial 100 per peice or on a per letter basis on metal or wood.
# Of Letters

# OF LETTERS Up To 3/4" (.22 ea.)

#Of letters Over 3/4" & Up To 1" (.28 ea.)

# Of Letters Over 1" & Up To 2" (.32 ea.)
OR MINIMUM OF $7 WHICHEVER IS GREATER FOR ABOVE ENGRAVING CHARGES
MONOGRAMS

3 LETTER MONOGRAM 2" TO 4" IN HEIGHT DEPENDING UPON AVAILABLE SURFACE TO ENGRAVE $10 EACH MONOGRAM* - ALSO APPLIES TO LOGOS ON METAL

LOGOS/EMBLEMS

1-Time Set Up per logo / image

Please see top of page for details

$35 Ea.
* NO INTERLOCKING FONTS ARE AVAILABLE CURRENTLY, RATHER, SELF-STANDING INDEPENDENT LETTERS ONLY.
FOR MONOGRAMS PLEASE GO TO THE TOP OF THE PAGE AND SELECT THE CONTACT US BUTTON WHERE YOU MAY E-MAIL US YOUR MONOGRAM(S) AND FONT CHOICE.
ARTWORK: To avoid additional charges please make sure all artwork is Camera Ready. Camera ready artwork is a layout in black & white form ready for reproduction (*Digital vector art is preferred). All type, line work and illustrations must be sharp, clean and dense black. Image edges must not be broken or jagged. Photographs should be "to size" or larger and at least 300dpi. Artwork sent by fax is not acceptable. Poor quality photocopies, detailed changes and/or conversion will result in additional charges. Layout of copy and/or artwork will be at National's discretion unless specifications are clearly marked on your order or finished art is supplied. We reserve the option to refuse a multiple color order which we consider impossible to reproduce within industry standards.
* High quality digital artwork can be submitted in one of the following formats for a PC: CorelDraw (version 10 or newer), Adobe Illustrator (version 7 or newer), EPS, high resolution TIF, JPG or BMP. When submitting digital artwork please include necessary fonts, or convert fonts to curves. We do not accept faxed images.
WE DO ACCEPT CAMERA-READY COLOR ARTWORK FOR THOSE PRODUCTS THAT ARE TO BE SCREENED OR PRINTED. PLEASE CALL, WRITE OR E-MAIL US A QUOTE REQUEST PRIOR TO SENDING US THE ART ITSELF. ANY COLOR SEPERATIONS PHYSICALLY SENT TO OUR BUSINESS WILL BE RETURNED (IF REQUESTED) AT CUSTOMER'S EXPENSE.
Select your favorite font from our list above or, call us if you have another favorite not shown
Please enter all engraving instructions in the Pay Pay Billing Information Page, "Message to Seller" section or e-mail to info@naplenco.com