NATIONAL PLASTIC ENGRAVING COMPANY
SUPPLYING ENGRAVING SERVICES TO BUSINESS & INDUSTRY SINCE 1973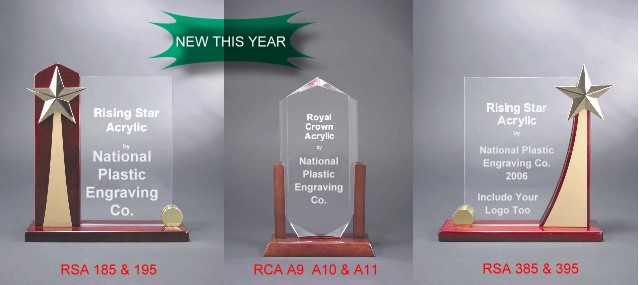 RISING STAR AND ROYAL CROWN AWARDS
Rich, deep woods combined with clear acrylic and layered with multi-colored, metallic-like accents make up the RISING STAR AWARD for this year. Available in two styles and sizes, the Rising Star is perfect because of it's unique style and flair. You won't find this award on everyone's shelf. The ROYAL CROWN AWARD is also new for this year and explores the use of warm, smooth Rosewood Piano Finish and 3/4" thick clear acrylic. The massive size of this piece says it all. It means business and expresses sincere appreciation to all who view it. CAUTION: Keep the glass cleaner nearby. Everyone who sees it will want to touch it.
DESCRIPTION

STYLE #

OVERALL SIZE WxH

PRICE

RISING STAR AWARDS*

RSA185

5 1/2" x 7 1/2"

$66.50

RSA195

5 1/2" x 8 1/2"

$70.00

RSA385

6 1/2" x 7 1/2"

$63.50

RSA395

6 1/2" x 8 1/2"

$62.00

ROYAL CROWN ACRYLIC*

RCA-8

5 7/8" x 8"

$49.50

RCA-9

5 7/8" x 9"

$53.00

RCA-10

5 7/8" x 10"

$58.00
NEVER AN ENGRAVING CHARGE WITH NATIONAL'S ACRYLIC AWARDS - SEE OUR ENGRAVING GUIDELINES FOR FURTHER DETAILS.
*One of only a few acrylic awards that requires a minimum order. This acrylic's minimum order is 6
Please enter all engraving instructions in the Pay Pay Billing Information Page, "Message to Seller" section or e-mail to info@naplenco.com
| | |
| --- | --- |
| Rising Star Award - Royal Crown Award | Copyright © 2009 - All rights reserved ·Terms of use - NAPLENCO P.O. Box 831664 Richardson, Texas 75083 Rev. 06/09 |